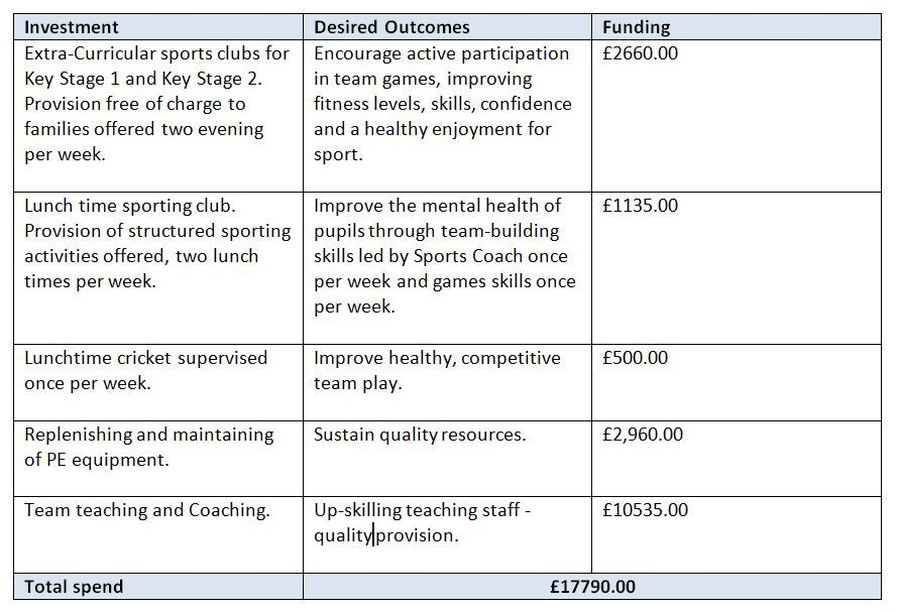 How much Sports Grant did Stirchley receive? £17790.00
We consider PE and fitness to be an important part of a child's education, therefore we utilise our Sports Premium in order to give our children the best possible experiences and provision.
Outcomes: for 2018-2019
A measurable and sustained improvement in school PE and sport, underpinned by high-quality teaching that increases participation levels in physical activity, and leads to healthier pupils who are more engaged across the whole curriculum.
Stirchley Primary School (Evolve Education Trust) is using their Sport Premium effectively in order to achieve all of our aims. The following outlines how they are doing that and the impact it is having on the children of the school.
Teachers have worked alongside a qualified Sports Coach to help develop their knowledge and understanding of PE. This has resulted in an increase in the quality of PE provision within the school. CPD has been essential to ensure that the children not only receive high quality PE lessons from a specialist PE practitioner but also lessons taught from school staff.
The consistent delivery of structured, well organised, competitive and assessed PE lessons are covering the current national curriculum requirements for all year groups.
The investment in new PE equipment has meant that children are able to have improved experiences of playing sport. It has been documented in school council meetings and pupil surveys that children enjoy sports and look forward to their PE lessons, creating positivity around the school.
Regular fitness training has been creating a positive perception of exercise and children enjoy working hard at improving all aspects of their fitness. Regular fitness testing is used to track and monitor progress as well as being used to identify causes for concern. Interventions have been put in place to give children extra opportunities to develop their fitness. The use of the outdoor fitness suite supported this.
Children are continuously learning the importance of health and fitness, how to lead an active and healthy lifestyle and the importance of it. This is reinforced by the use of display boards discussing PE, sport , health and wellbeing, offering visual information for children to see on a daily basis to remind children of these issues.
Children are taught a wide range of sports and activities which allows for inclusive participation and lots of opportunities. Generic movement skills underpin all lessons so that skills are transferable to different activities and sports, resulting in high success rates.
Children are rewarded for their efforts, behaviour and performances in PE. Celebration assemblies are used to showcase their efforts and work produced by children and these can be viewed on the school website. Awards are presented to children to recognise their progress and achievements.
Community links between the school and local sports clubs and teams provides children with the opportunities to extend their physical development out of school hours.
Standards, expectations and values in PE lessons mirror those shown in classroom learning environments. All children participate in PE lessons in their own school PE kit. Participation is mandatory for all children and if they can't physically participate due to medical reasons then they get involved in lessons by umpiring or coaching, to name a few adjustments.
A range of assemblies has further educated children about health and wellbeing. This includes physical and mental health and has provided them with knowledge of how to lead an active and healthy lifestyle.
Inter-house competitions have been established to develop a healthy sense of competition amongst children where they are learning how to win with grace and lose with dignity. The school's inter-house cup stands proudly in the office, dressed in the colours of the winning house.
Over 85% of children across the school are making expected levels of progress or higher. Assessment of children's abilities includes physical skills as well as testing their knowledge and understanding.
A 39% increase in fitness level scores across the school demonstrates the positive impact PE is having on the physical well-being of pupils at Stirchley.
52% of children now take part in sport or physical activity outside of school.
| | |
| --- | --- |
| Meeting national curriculum requirements for swimming and water safety 2018-2019 | Please complete all of the below |

| | |
| --- | --- |
| What percentage of your current Year 6 cohort swim competently, confidently and proficiently over a distance of at least 25 metres? | 74% 20/27 |
| What percentage of your current Year 6 cohort use a range of strokes effectively [for example, front crawl, backstroke and breaststroke]? | 74% 20/27 |
| What percentage of your current Year 6 cohort perform safe self-rescue in different water-based situations? | 74% 20/27 |
| Schools can choose to use the Primary PE and Sport Premium to provide additional provision for swimming but this must be for activity over and above the national curriculum requirements. Have you used it in this way? | YES/NO |
Our outdoor fitness gym
We know how important keeping fit is at Stirchley. Our curriculum teaches children about healthy eating and our professional sport coaches ensure our children have opportunities for exercise though the PE curriculum and playtime activities.
We have installed an outdoor gym in the playground to allow our children to keep really fit! It has proved to be very popular!